Burj Al Arab is a luxury hotel located in Dubai, UAE. At 321m, it is the third tallest hotel in the world. Burj Al Arab stands on an artificial island 280m from Jumeirah beach and is connected to the mainland by a private curving bridge. The shape of the structure is designed to mimic the sail of a ship. It has a helipad near the roof at a height of 210m above ground.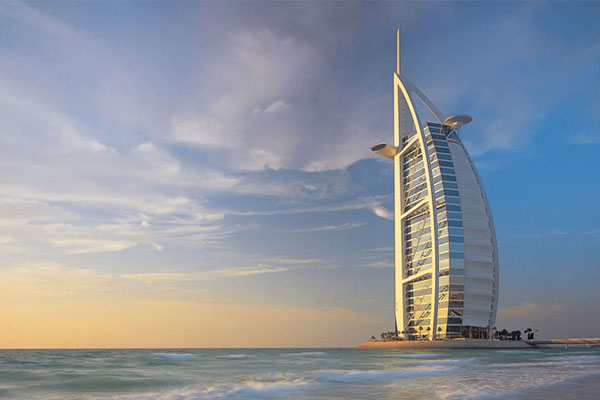 Client: Murray & Roberts and Al Habtoor Engineering
Owner: Jumeirah group
Location: Dubai, UAE
Scope of work: Main Contractors
Sector: Hospitality
Contract Period: 1994 – 1999
Number of rooms: 202
Floor count: 56 (3 below ground)
Hight:
Architectural: 321m
Top floor: 197.5m
Contract Value: US$ 1 000 000 000
Product used: Candy
Interesting Facts:
Construction involved 3000 companies and contractors; 250 designers from the UK, USA and Dubai; and 3500 workmen on site at any given time. It took two years to reclaim the island in the shore waters of the Arabian Gulf, and a further three years to erect the magnificent landmark.
An incredible 70,000 cubic meters of concrete and more than 9,000 tonnes of steel were employed in the construction of the tower.
The finest and most exclusive materials were sourced for finishing the interiors of Burj Al Arab. Amongst the fine items brought in to create the magical interiors were custom-made carpets and rugs from South Africa and India; marble from Brazil and Italy; wooden doors from Dubai and chandeliers from the UK.
Approximately 1,790m2 of 24-carat gold leaf was used to embellish the interior.