The Cape Town Stadium is a stadium that was built for the 2010 FIFA World Cup. During the planning stage, it was known as the Green Point Stadium, which was the name of the previous stadium on the site, and this name was also used frequently during World Cup media coverage. The stadium has been crafted to take full advantage of the beauty of the area. At night, lit up against the black sky, the stadium appears to be a floating rose-shaped bowl. During the day, its Teflon-coated fibreglass facade reflects the ambience of the city, dependent on its weather patterns – bright, sunny skies or dramatic grey clouds.

Of particular interest is the design of the stadium's roof. Don't be fooled by its bicycle wheel-like appearance. This glass-panelled roof has in fact been built according to a groundbreaking design, which protects spectators from rain and strong winds, lets light in, and reduces noise from within. Water that drains from the pitch, as well as water from the stadium's roof, is collected and pumped into ponds at the Green Point Common, helping the stadium to achieve its high levels of environmental protection.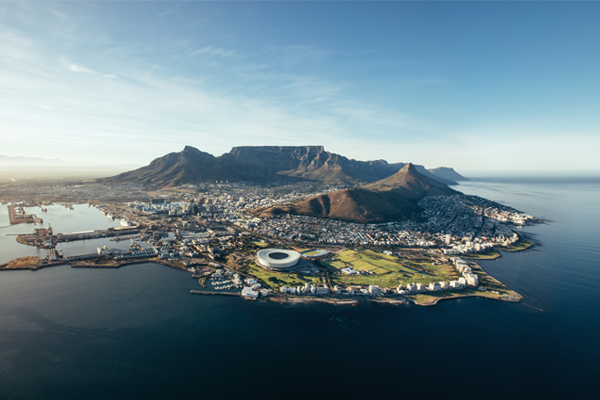 Client: Murray & Roberts and WBHO
Owner: Cape Town Municipality
Location: Cape Town, South Africa
Scope of work: Building
Sector: Leisure, Recreation, Education
Contract Period: Broke ground 26 March 2007 – Opened 14 December 2009 (33 months)
Contract Value: US$ 95 000 000
Floors: 7
Steel: 15 593 tons
Concrete: 140 000m3
Field Size: 290 X 265 X 48 M
Product used: Candy
Interesting Facts:
First match played: 23 January 2010
The stadium had a seating capacity of 64,100 during the 2010 World Cup; later reduced to 55,000.
It is the home ground of Premier Soccer League clubs Ajax Cape Town (since 2010) and Cape Town City (since 2016). It has also hosted the South Africa Sevens rugby tournament since 2015.
Its innovative design enables the stadium to be illuminated by natural light, minimising the number of lights needed, and hence increasing its energy efficiency.
When deconstructed, 95% of the old Green Point Stadium's components were able to be recycled and reused.
A cleverly-designed moat around the circumference of the field prevents field invasions.
The stadium's acoustic-dampening design makes it the ideal venue for music concerts.
A police station has been constructed inside the stadium to deal with any unruly incidents or people at the stadium.