Sasol Place is one of the biggest office developments in South Africa and forms part of a movement to create a new business district in Sandton. The building is designed in an S-shape, which links the core of the building with two atriums and represents the linked particles of the Sasol logo. The internal structure of the building is made up of a central core with extending arms which are interconnected by a series of bridge links, designed with the intention to encourage collaboration and teamwork amongst all employees. The bridge links also provide structural support, enabling the weight and counterweight of the various components of the building to be held together without the use of straight columns.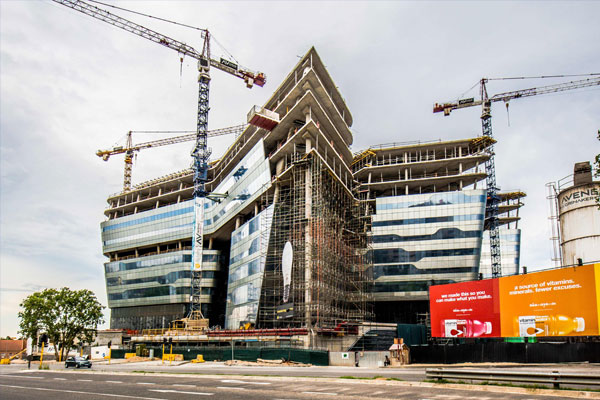 Client: Aveng Grinaker-LTA
Location: Gauteng, SA
Scope of work: Building
Sector: Offices – Commercial
Contract Period: January 2014 to September 2016 (33 months)
Contract Value: US$ 95 000 000
Floors: 11
Built up area: 60,000 m²
Parking Space: 100,000 m²
Office space: 83,000 m²
External glass façade: 21,000 m²
Internal glazing: 9,000 m²
Product Used: Candy and BuildSmart
Interesting Facts:
Sasol Place was also awarded a 5 Star MBA rating at the end of 2015 and is targeting a 5 Star Green Star Rating from the Green Building Council of South Africa in both the design and as-built categories for its environmentally-friendly features. These include, but are not limited to, the collection of rain water, recycling of grey water, and the filtration of water that runs off from parking areas in order to remove pollution, as well as the building's ability to reduce glare and heat inside the building while letting in sufficient natural light resulting in a reduction in energy use.
The project achieved a safety milestone of two million lost time injury (LTI) free hours.