Download Candy Evaluation version and demonstration job
Download an evaluation version of Candy (If you already have an installed license, Candy will operate as a full featured system.) Download Candy evaluation version
Please take the demonstration job file as well Save / Download the demonstration job to a folder on your computer.
Or View the Candy Starter Guide.
How to install the Demo Job
Run the Candy application, and then… In the Job Manager, select
Job > Recover job(s) > from Folder and browse to the location of the Candy job
.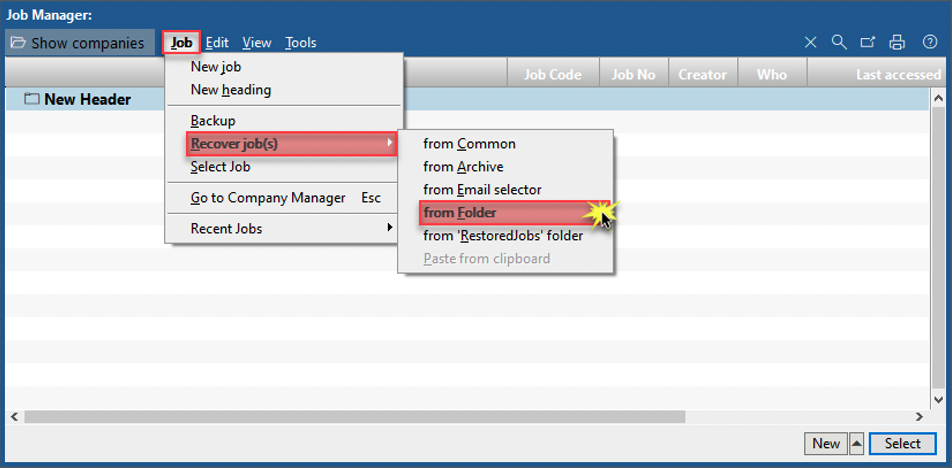 Candy PDF Writer
Click 
here
to download the Candy PDF writer.
Note
: The 
Candy PDF writer
 should only be installed after Candy has run at least once on your PC.
White Papers
These papers are intended for IT managers, network administrators and other decision makers who might need to know the intentions and philosophy of Candy's design. We publish them with the aim of inviting comment and discussion but without obligation to redesign the software
1. Candy Network Installation for System Administrators (PDF 70KB).
The Candy Project Control system can operate in several application and data location configurations. Each configuration has its pros and cons and the system administrator must weigh these up to design the best option that fits their business operations.
2. The Candy File System Mechanism and Requirements (PDF 13KB)
Candy Help Centre
As a Candy User, you have access to the Candy Help Centre, which contains a vast range of articles on topics that can help or guide you through the Candy software.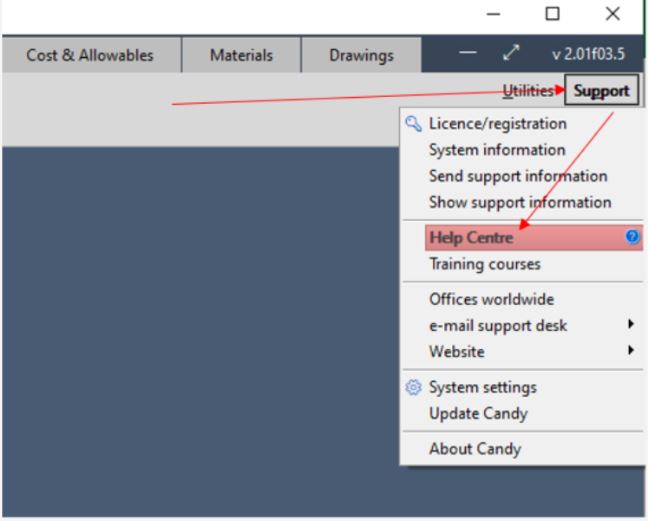 Webinars
Speak to your Candy Consultant to get access to our webinar page.
What makes Candy different?
The conceptual framework of the package is strongly focused around the various professional and engineering occupations of the people who are involved in construction, viz. estimators, quantity surveyors, planners, project managers, business managers, clerks, etc. So, instead of being determined by the design of computers, Candy is strongly focused on the occupations and requirements of its users.
Candy is an integrated Project Control System specifically designed for construction industry professionals and their assistants, so the various "personalities" of Candy include Estimating, Valuations, Critical Path Planning, Forecasting and Cash flow modelling, etc.
This means that you set up Candy according to the type of work that you do.
There is also a variety of construction related tools such as Material Costing, Drawing Register, Sub-contract database, Allowable Cost Reconciliation, Information Schedules and Time-Location charts. All of these components interact in exactly the way that the various personnel interact, so that the flow of information within the company is bounded and complete.
The original RIB CCS management and Candy software team put down roots in 1978.
The modern company was constituted in the early 1990's and is almost exclusively comprised of experienced, construction industry professionals and computer programmers.
Candy is installed in the offices of thousands of users around the world, and across the entire range of the industry, among them large multinationals, consultants, and small contractors. The scalable nature of Candy is its big strength. It has been used on some of the world's most prestigious construction jobs worth billions of dollars and some worth $50,000 or less.
Candy is licenced on a monthly basis. Construction is a highly cyclical industry. In 'down-times' you don't want software packages sitting idle – with a month's written notice, you can switch off your rental licence until work picks up again.
The rental includes free-of-charge support and free upgrades to each new version. The only up-front cost is a first-time installation fee and a licence re-activation fee.
Our distribution network is serviced by Candy offices, distributors and toll-free telephone support in the United Kingdom, Australia, Germany, Hong Kong, New Zealand, Portugal, Singapore, South Africa, Thailand and the United Arab Emirates (Dubai), Bahrain, India and Zimbabwe.
We pride ourselves on encouraging interaction with our clients, so as to both supplement our own research into changing methods, and share the combined knowledge of the industry through our software.
Immediate expert support?
All of our clients have access to a permanent telephone help desk that offers expert assistance to users needing to perform complex or unfamiliar tasks. System experts are also available by email and fax.
Courses on various Candy topics are run regularly and can be arranged to be on-site or at the users' premises.
The system is continually being adjusted and extended to comply with changing conditions in the construction industry, new computer technology and user requirements.
Speak to your Candy Consultant to get access to our webinar page.
How do I find out what version I am using?
Your version number will display on the login screen.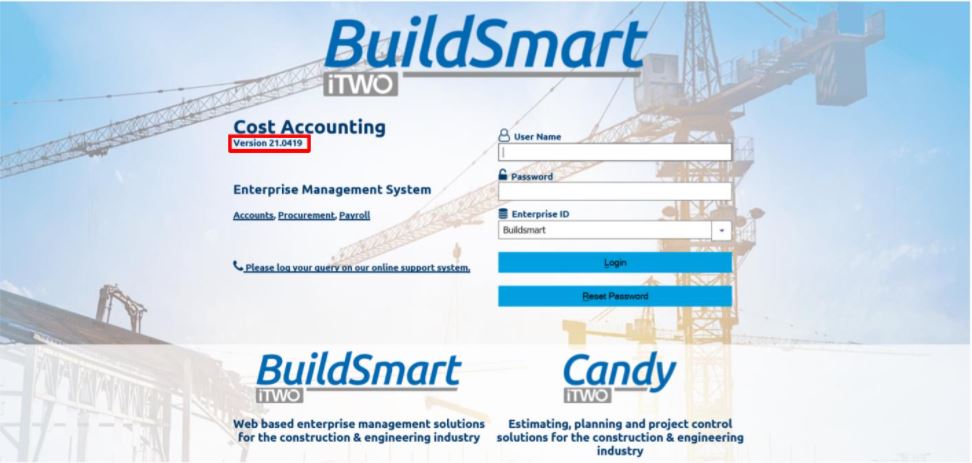 It is also displayed on the top right of the BuildSmart screen when you log in.

Where can I find manuals?
Log in to BuildSmart then Click on the Documentation icon, top left.

Where can I find the latest release notes?
Log in to BuildSmart then click on the Version number. Our newsletters have a BFF – BuildSmart Fact Feature, where the latest development and enhancements are summarised and reported. Our regular User Group meetings cover new functionality and latest releases.

Will I have access to immediate expert support?
All of our clients have access to our electronic support log that is manned by a separate dedicated team. The benefit of using the support log is to ensure the team can monitor feedback and progress on Support Logs constantly. In addition we have a telephone help desk that offers expert assistance to users needing to perform complex or unfamiliar tasks. System experts are also available by email and a consultant can also log in remotely to assist you. Please ensure that you have your TeamViewer ID and password ready.
How do I register for On-line support?
I forgot my login details and/or password.
Contact your BuildSmart administrator as they will be able to reset your password and generate new login details. They are the only one with the security access to your organisation.
I need training in BuildSmart
Part of the implementation process covers training. Initial training is hands on with live data at the users' premises. For follow up or supplementary training click here to view the list of BuildSmart courses available.
What size company is an ideal profile fit for BuildSmart?
BuildSmart is scalable up and down from the large corporate with a multiple disciplined construction businesses within a group, mining houses and down to smaller construction businesses and home builders.
To reset your license please contact your nearest RIB CCS office to assist you.
What type of license model does BuildSmart follow?
BuildSmart operates on a concurrent license model with any number of named users but allows a fixed number of users access to the system at a given time. Concurrent user licensing allows the purchase of software at a lower cost because the maximum number of concurrent users expected to use the system at any given time (those users all logged in together) is only a portion of the total number of users expected to use the system across the company. The concurrent licenses are global and shared by anyone who has access rights to use the system. This contrasts with "named-users" licensing, in which one license must be purchased for each and every individual user, whether they are using the system or not.
What happens if all the concurrent licenses are used?
Any user in addition to the number of concurrent license installed will not gain access to the system. The System Administrator can manage the users.
Can the System Administrator see who is logged in and where they are logged in from?
Yes, the System Administrator can see who is logged in, when they logged in and their IP address.
Can Users be automatically logged out?
A timeout can be set for inactive users to be automatically logged out and the licence released, after the specific time set.
Are additional users available on request?
Additional Users may be purchased in bundles of 5 at any time. Please contact a RIB CCS sales office (Click here for contact details) and they will assist in this process.
How are the access rights controlled so a user has limited access and their access is aligned to their role in the business?
Roles are defined in the system covering common functions within a Role and Users are then assigned to Roles. Each function and report is controlled. For example a Storeman will only have access to the tasks assigned under his Role which will cover receiving deliveries and issuing stock while a Commercial Manager will have access to Procurement upstream control, Resource Management, Cost Reports including Snap Shot Cost Reporting and adjustments, Cost and Allowables, Cost Variance Management, EVM, Budgeting and Forecasts and CTC etc.
Where and when did BuildSmart start?
BuildSmart's origins go back to the early 80's and in fact to the DOS days where the original team kept one step ahead of technology all the time with BuildSmart being the first web based solution for construction. BuildSmart merged with Candy in 2008, resulting in RIB CCS having the world's most powerful construction and engineering software. Originally developed in South Africa but now has a global presence in over 80 countries.
Does BuildSmart, as a system, meet the requirements of other industries besides construction?
BuildSmart is designed for construction by construction professionals and is almost exclusively staffed by experienced, construction industry professionals and built for construction from day one. Construction is our business.
Why BuildSmart over a generic ERP?
The preparation and management of Construction Accounting is unique. A number of issues ensure that adjustments need to be made to standard accounting practice, in order to report on the financial position of the organisation accurately. Traditional accounting systems consist of a statement of Income and Expenditure, made up of [Sales – Cost of Sales = Gross Profit – Overhead Expenditure = Net Profit] and the Balance Sheet is used to balance out all Income Statement accounts (trading accounts). At the end of each and every financial year, the Net Profit figure is transferred to the Balance Sheet and the Income Statement figures are zeroed, ready for the subsequent year's figures. Construction projects extend over financial years and these figures cannot be cleared without noting the position (profit/loss) of each of the projects still under construction. Therefore the structure of the Income Statement and the method of reporting needs to take into account the nature of construction projects and standard accounting reports do not suffice. In Construction (assuming the organisation's main activity is restricted to normal construction) the Sales figures relate mainly to Project Revenue, and the Cost of Sales figures would relate to the cost of all resources utilised in the course of construction. To this end BuildSmart has created a separate ledger – the 'Cost Ledger' to clearly identify and track all the Revenue and Cost elements associated with each project.
Does BuildSmart track the internal costs to a project?
The determination of total project cost entails the detailed tracking of all cost elements, as the percentage complete figure that will be determined, relies on the accurate recording of these values. A number of cost elements (plant and equipment, workshops, internal repairs, etc…) are internal costs and although they do not affect the Net Profit figure, they have a substantial impact on the cost to date and therefore the Profit/Loss. The accounting system needs to take account of these internal costs and provide operational and management accounting figures to the likes of the Plant Manager and Workshop Manager.
How are the Plant and Equipment costs tracked?
To facilitate the management of Plant and Equipment costing, BuildSmart have separated the Plant and Equipment into the 'Plant Ledger'. Tracking individual plant cost, revenue and ultimately profitability.
What about the tracking of Overhead costs?
The Internal Costs have the effect of adding cost to Projects and relieving cost from the overhead expense accounts. In addition to the Cost Ledger and the Plant Ledger, BuildSmart separates out the Overhead Expense into the 'Overheads Ledger' with multiple Divisions.
Where are the budget figures generated?
Construction accounting requires that the construction budget is generated from a valuation of the work done from the source document i.e. Bills of Quantity. Therefore all `Cost Ledger' budgets functionality has no place in a standard set of accounting functions. The unique Valuation of Work done from Candy integrated with BuildSmart costs, creates this unique Budget vs Cost or Cost vs Allowable.
What should the procurement of resources for a construction project be based on?
Procurement for construction must be based on the determination of the quantity and cost of the individual resources used in the determination of the net cost of each work item in the Bills of Quantity. Procurement of resources is constantly being modelled over the life of the project and is constantly under review as a result of the provisional nature of the quantities of work performed. As the quantities change, so will the allocation of resource usage and cost on the project. The procurement of goods and services needs to be measured against the items procured in terms of quantity as well as their monetary value. Both quantity and value are of importance here as the budget is dependent on both these indicators.
Can BuildSmart be installed on my server, hosted or on the cloud?
BuildSmart can be installed on a client's server, on a hosted service or own cloud server (please contact your nearest RIB CCS sales office for assistance on hosting).
Does RIB CCS keep backups of client's data?
No, RIB CCS does not keep any client data. Backup policies as well as any data recovery policy is the responsibility of the client. The system does have a warning of the number of days since the last backup. The database management services can be configured by your IT service provider to manage backups warnings etc.
Are entries tracked by user?
Yes, every transaction is tracked by User ID date and time.
BuildSmart is renowned for its Cost Ledger and the importance of Cost and Allowables, and tracking budgets by Contract/Project, Resource, Cost Code and Activity / Task, but does BuildSmart have Financial Statement - Income Statement and Balance Sheet?
Yes, BuildSmart has the full accounting functionality of full accounting software, including a Balance Sheet and Income Statement. The Income Statement is broken down in order to report on Contracts, Overheads and Plant.
How is multi-currency catered for?
The system is fully multi-currency enabled with options of managing the rates as per your company policy – average, last rate, spot rate – IAS21 compliant.
Can I have more than one company installed on the same system?
Provided the requirements as per the RIB CCS software licence agreement are met, multiple companies can be installed and operated on in the same system. Intercompany transactions are also catered for in a multi company setup.
If I have more than one company, can I report at a consolidation level?
Multiple levels of consolidation are catered for with consolidation reporting at a click of a button – including consolidating companies operating in different currencies with currency control. Percentage consolidation is also applied for JV companies.
With all the different cost elements on a contract, how does BuildSmart track these different elements?
The type of cost types that require tracking, management and reporting on normally fall under:
Materials
Plant and Equipment (internal)
Plant and Equipment (external)
Labour
Sub Contractors
Preliminaries & General or Indirect costs.
BuildSmart tracks each one of these cost elements in its own unique way but at the same time at the same level and in one system.
Materials are managed through the procurement system with the unique link to the Candy resource.
Plant and Equipment is managed by the Plant and Equipment module costing the Plant to the Contract, Cost Code and Activity or Task by item.
Labour and Manpower costs are tracked again to Contract, Cost Code and Activity, through the Payroll where each and every employee is costed to a Cost Centre at Activity or Task based costing level.
Sub Contractors are managed specifically by BOQ, Advances, Retentions and Contra Charges while linked to the Candy BOQ integrated to BuildSmart Accounts for the complete control down to activity or task level.
Preliminary & General or Indirect costs that are related to the project monitored on a time basis, if required, and managed by resource or group of resources.