Our solutions serve finance teams with accurate, real-time financial and cost reporting
empowering the business to make strategic decisions that drive profitability.
Harness accurate, real-time financials
Take control of costs and allowables
Meet payment and reporting deadlines
Identify operational efficiencies that drive productivity and profit
 
OUR FIT-FOR-PURPOSE SOLUTION FOR FINANCE TEAMS
Construction Cost Management & ERP
BuildSmart' s feature-rich enterprise accounting module manages your complete accounting organisations, full or partial consolidations, multiple currencies, and multiple tax regions. It also includes contractor-specific controls for the management of subcontractors, contractor debtors, plant and equipment, consumable and non-consumable stock and hire, and IFRS 15 contract revenue recognition. Users also have the ability to view accrued costs in real-time across all aspects of the contracting process, while utilising activity-based costing for all contract-related items captured from the first point of data entry.  
The most important aspect of a project is understanding how profitable it will be. This is revenue forecast, you can then accurately state the current final position of a project. Knowing where your project stands will enable you to correct and influence its outcome. By providing a complete and real-time report on all activities affecting a project, BuildSmart empowers stakeholders to make informed decisions based on its status. With complete accounting of all costs, from tender to final accounts, this solution breaks financial data down into commercial and operational silos; delivering one source of truth to all parties.  
Project Insights & Business Intelligence
Connect BI
Powerful business intelligence capabilities can transform BuildSmart data into valuable information, provide high-level oversight by utilising in-system dashboards for clear visibility; ensuring the information you need is always at your fingertips.  
Design your own dashboards giving you visibility of important information on one or multiple pages designed based on your business requirements. Connect brings all data together to produce results and information you require allowing for data driven decision making.
THE BIG DEBATE: FIT-FOR-PURPOSE OR GENERIC ERP SOFTWARE?
The pressure to innovate is an ever-present part of any industry, with those embracing the latest digital technologies staying ahead of the game.
Choosing the right technology is critical for success, but do you go with a generic solution or something purpose-built for your industry?
In this ebook you will discover what key features make this construction-specific solution the ideal platform for your engineering or construction business.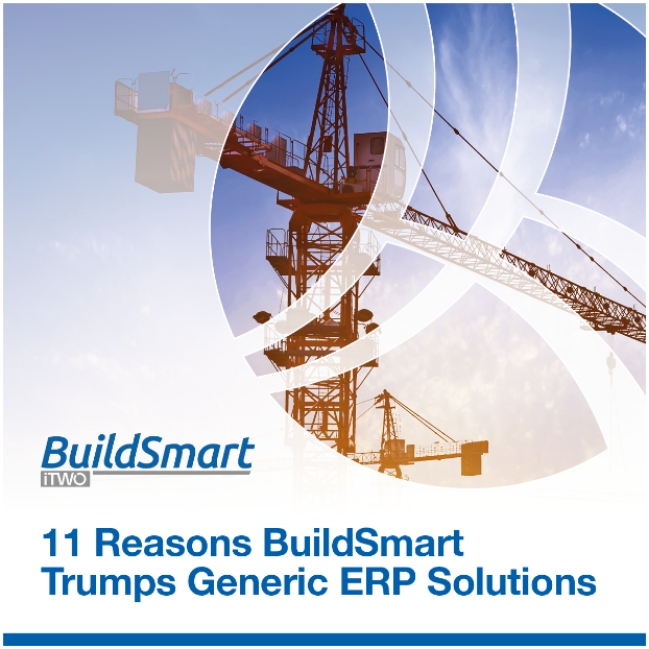 READY FOR ACCURATE, REAL-TIME
READY FOR ACCURATE, REAL-TIME
We'd love to discuss your goals, challenges and some examples of how we have helped other estimators in the built environment compile winning tenders that make a profit.