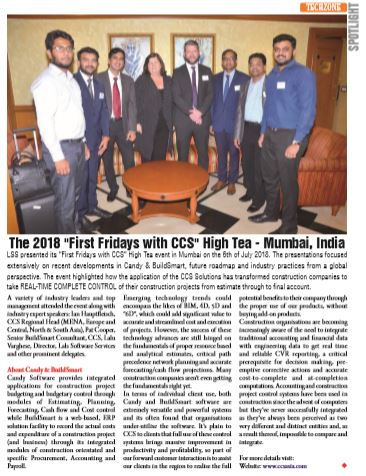 A variety of industry leaders and top management attended the event along with industry expert speakers: Ian Hauptfleisch, CCS Regional Head (MENA, Europe and Central, North & South Asia), Pat Cooper, Senior BuildSmart Consultant, CCS, Lalu Varghese, Director, Lals Software Services and other prominent delegates.
About Candy & BuildSmart
Candy Software provides integrated applications for construction project budgeting and budgetary control through modules of Estimating, Planning, Forecasting, Cash flow and Cost control while BuildSmart is a web-based, ERP solution facility to record the actual costs and expenditure of a construction project (and business) through its integrated modules of construction orientated and specific Procurement, Accounting and Payroll.
Emerging technology trends could encompass the likes of BIM, 4D, 5D and "6D", which could add significant value to accurate and streamlined cost and execution of projects. However, the success of these technology advances are still hinged on the fundamentals of proper resource based and analytical estimates, critical path precedence network planning and accurate forecasting/cash flow projections. Many construction companies aren't even getting the fundamentals right yet.
In terms of individual client use, both Candy and BuildSmart software are extremely versatile and powerful systems and its often found that organisations under-utilise the software. It's plain to CCS to clients that full use of these control systems brings massive improvement in productivity and profitability, so part of our forward customer interaction is to assist our clients in the region to realise the full potential benefits to their company through the proper use of our products, without buying add-on products.
Construction organisations are becoming increasingly aware of the need to integrate traditional accounting and financial data with engineering data to get real time and reliable CVR reporting, a critical prerequisite for decision making, pre-emptive corrective actions and accurate cost-to-complete and at-completion computations. Accounting and construction project control systems have been used in construction since the advent of computers but they've never successfully integrated as they've always been perceived as two very different and distinct entities and, as a result thereof, impossible to compare and integrate.
See article in Construction Opportunities magazine http://www.constructionopportunities.in/IssueDetailPage?IssueMenuMasterId=19155&ParentMenuId=19155