"This museum will provide a home for a global community working to imagine, design and execute a better future.'' This Project is earmarked an Iconic project for the UAE and a mainstay for Dubai tourism. ATS's role involved a Pre-Construction Services Agreement (PCSA) to study the design, review buildability issues and assist in the early procurement. 
Upon the completion of the PCSA, the fit out project consisted of works to G+7 floors of Exhibition and Auxiliary spaces. 5 levels, designed for innovative and immersive exhibits including a Media lift. 1 No floor is for executive offices within the main building and 2 No floors of additional office space in the  adjacent JET Towers working as the executive satellite offices. Ground floor and Podium areas have auxiliary spaces such as F&B, retail and temporary exhibitions.  
The Exhibition spaces include state of the art AV/IT immersive experiences along with pioneering fit out works.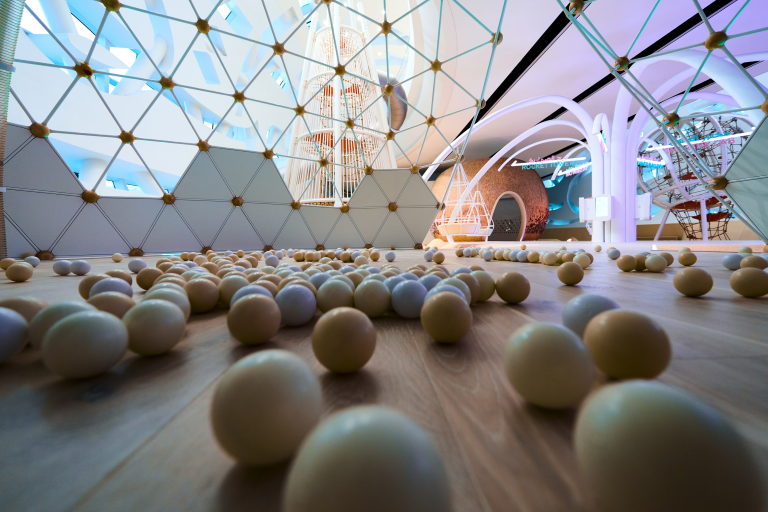 Client: Al Tayer Stocks
Owner: Dubai Future Foundation
Location: Dubai, UAE
Scope of work: Traditional
Sector: Technology
Contract Period: 1 year
Product used: Candy
Interesting facts about the project:
Manpower at peak (on- site = 450 Pax)
Total 400,000 man-hours worked on site (LTI free)
Offsite fabrication Circa Over 1 million man-hours worked
290 Tons of steel utilized
International fabricators/ suppliers spread across 40 countries from 5 continents.
14 nationalities involved with MOTF project.