Our construction payroll software helps payroll teams easily manage pay-runs and submit
timely and accurate payroll submissions that are legislatively compliant.
Comply with region-specific statutory compliance
Real-time payroll accruals and reporting
User-defined parameters that are customizable and flexible
Multiple reporting protocols provide targeted information to all levels of a business while maintaining confidentiality
OUR FIT-FOR-PURPOSE SOLUTION FOR PAYROLL TEAMS
Construction Cost Management & ERP
The payroll for construction feature within BuildSmart allows for the creation of highly flexible, region-specific payroll management. With built in activity-level costing per project, our payroll software for construction industry allows you to timeously manage your manpower costs. And, with the live-accrual process, costs are visible as soon as time data is loaded, via any of the standard costing reports. Regional-specific statutory reporting and uploads are also built into the solution as standard. 
THE BIG DEBATE: FIT-FOR-PURPOSE OR GENERIC ERP SOFTWARE?
The pressure to innovate is an ever-present part of any industry, with those embracing the latest digital technologies staying ahead of the game.
Choosing the right technology is critical for success, but do you go with a generic solution or something purpose-built for your industry?
In this ebook you will discover what key features make this construction-specific solution the ideal platform for your engineering or construction business.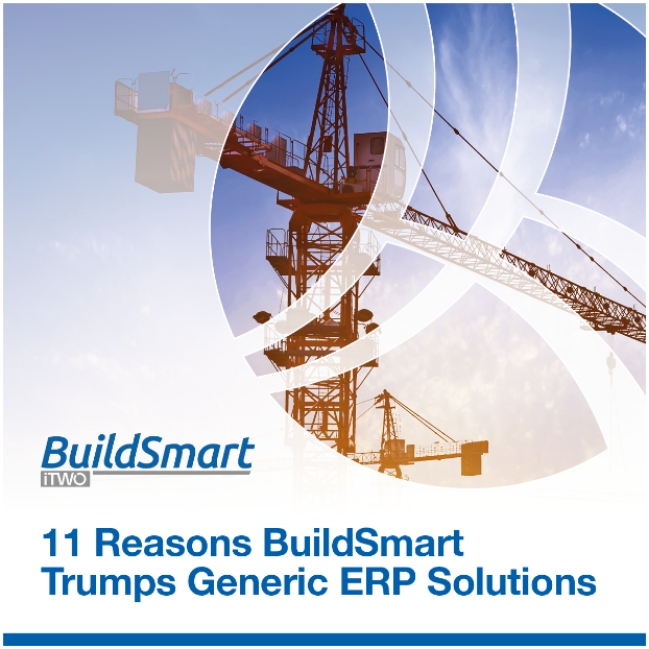 We'd love to discuss your goals, challenges and some examples of how we have empowered other payroll teams in the built environment accurately, securely and compliantly pay their staff and labour resources.
*  Payroll is only available in select regions.