Our solutions enable plant & equipment teams to effectively manage the costs of
the asset lifecycle from purchase to in-use to disposal.
Manage the location, availability, utilisation and cost of plant & equipment
Real-time plant & equipment accruals and reporting
Maximise asset utilisation to boost efficiencies and ROI
Systematic job card and workshop management
OUR FIT-FOR-PURPOSE SOLUTION FOR
PLANT & EQUIPMENT TEAMS
Construction Cost Management & ERP
BuildSmart provides a cloud-based toolbox to support the efficient management of an asset's lifecycle. This allows for the close monitoring of ownership, maintenance and running costs at a group, category, or individual-plant-item level. This includes monitoring plant availability, utilisation, breakdown and breakeven from a single source of input. Coupled with fuel and servicing, these features enable the complete management of a plant fleet—no matter its size or location. 
THE BIG DEBATE: FIT-FOR-PURPOSE OR GENERIC ERP SOFTWARE?
The pressure to innovate is an ever-present part of any industry, with those embracing the latest digital technologies staying ahead of the game.
Choosing the right technology is critical for success, but do you go with a generic solution or something purpose-built for your industry?
In this ebook you will discover what key features make this construction-specific solution the ideal platform for your engineering or construction business.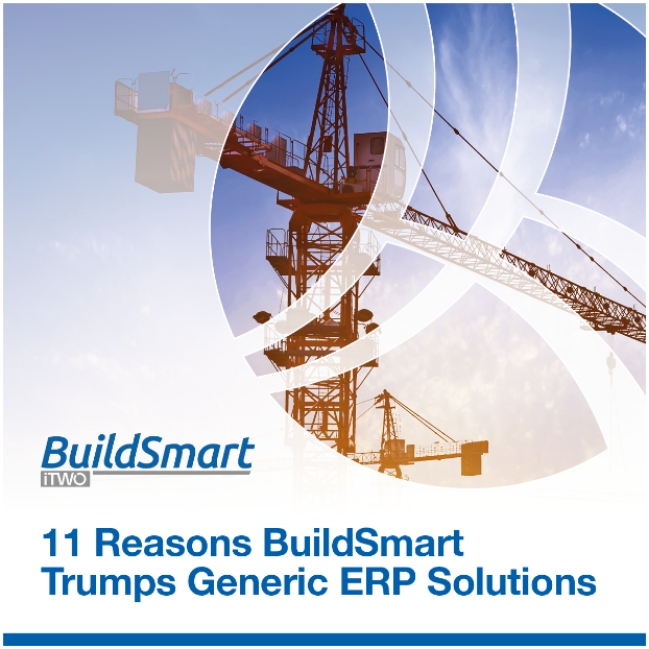 We'd love to discuss your goals, challenges and some examples of how we have empowered other plant & equipment teams in the built environment effectively manage the location, availability, utilisation and cost of their project assets.